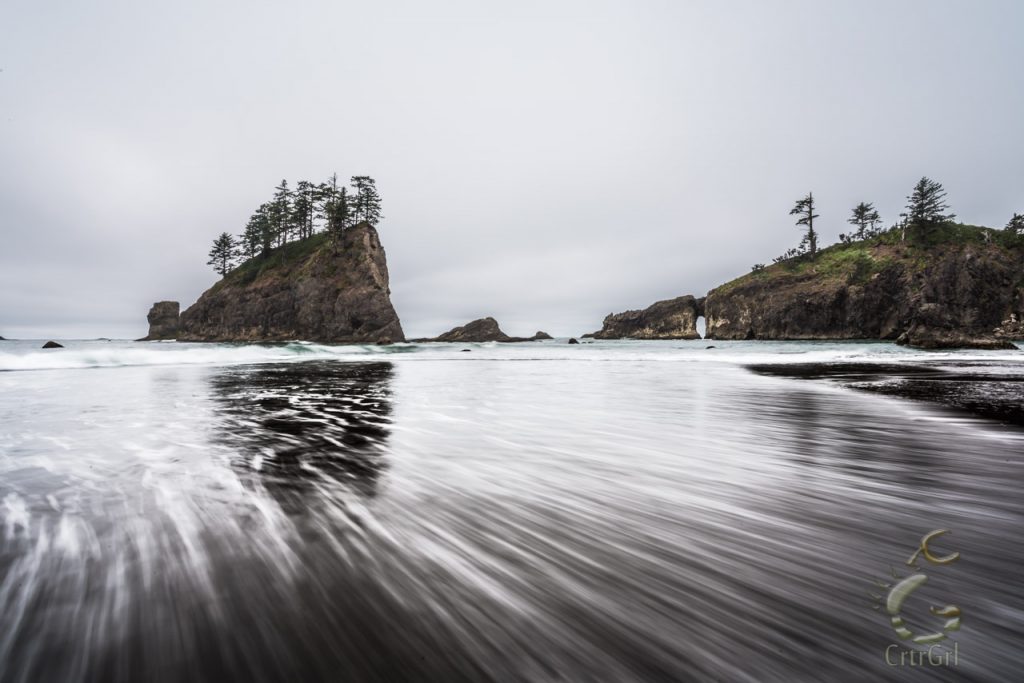 Beauty Of 2nd Beach Trail
Scott, Forest2SeaAdventurePhoto & I were prepped & ready for a full day of photographing on 2nd Beach. It was our first time so we only knew what to expect from pictures on the internet. The 2.0 mile trail offers lush greens &, of course, some creepy Crtrs like Banana Slugs & colorful hemipterans.
The mini-forest embracing the trail, in itself, was visually pleasing. When we reached the end of the beautiful trail it opened up to an amazing view of the beach decorated with rock stacks styling forested mohawks. We've never seen anything like this before.
One moment you're in the forest, the next you're at the beach. Then, you see these stone islands that have their own amazing eco-wonderland filled with lush trees & bald eagles flying overhead. There were a few times I had to rub my eyes to make sure I wasn't seeing crazy. It was all so surreal!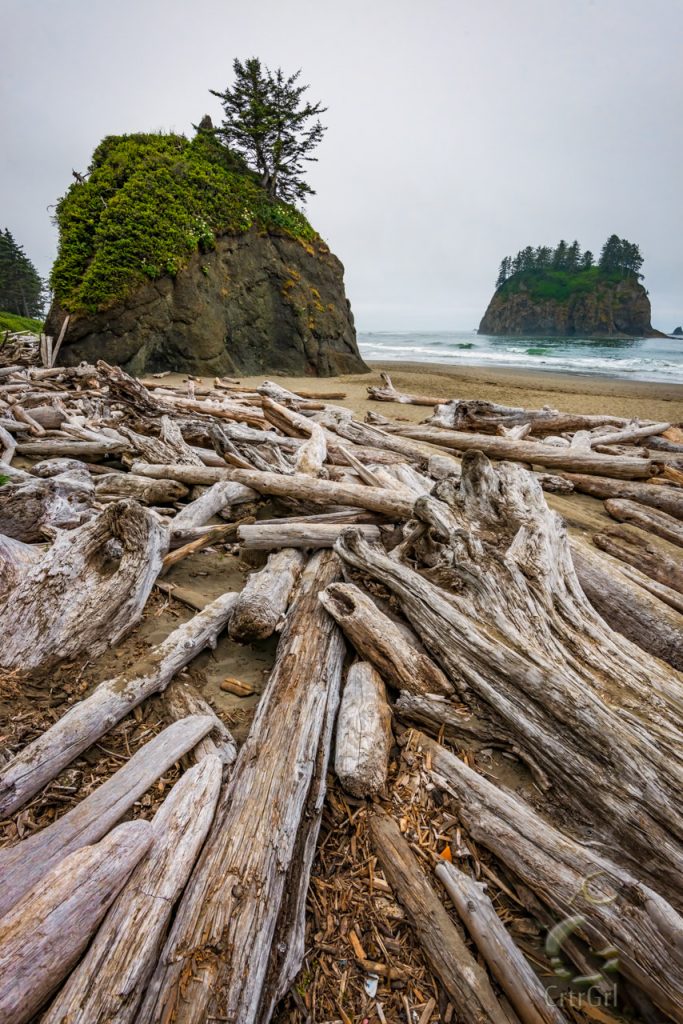 Driftwood Mania
We haven't left the trail quite yet when we spotted interesting Crtrs traveling in & out of the cracks of the fallen driftwood, lining where the forest & the sand meet. We had spent some time there photographing 2 different hemipteran Crtrs & what looked like Western Carpenter Ants (Camponotus Modoc).
One seemed to be curious of me so I placed my hand down to allow it to take a stroll & do its ant thing. It was a hefty Crtr with intimidating mandibles, but we got along great. After placing it back to where I found it, we spotted another one with grub in its mouth. Poor Crtr was still alive, being taken away to the ant's dungeon for a meal of a sacrifice. Eegad!
Bite Size Factoid: Carpenter Ants are usually found making homes in dead wood especially in damp areas like forests. They're known for constructing killer underground tunneling systems. Their diet consists of honeydew they excrete from aphids. They're also found grubbing on insect parts & sometimes plant juice. They often forage at night & prefer to work alone rather than in groups like other ants, which explains why we saw them spread out on the wood.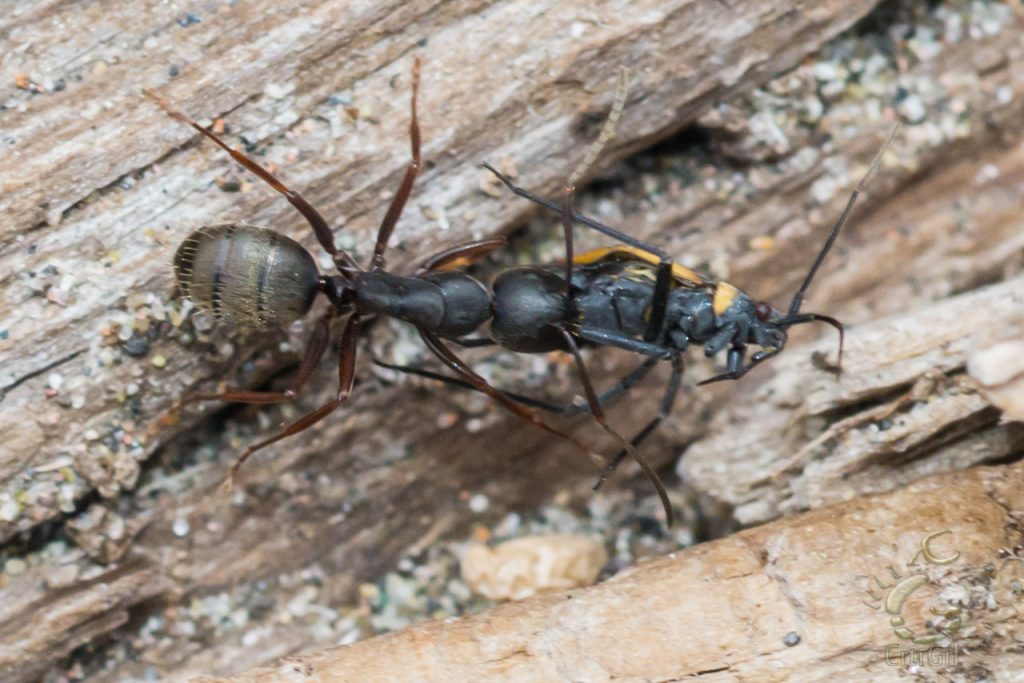 Not too far from the ants were these red colored Crtrs enjoying their fallen homestead. They were scattering around, but I wasn't sure exactly what they were doing. I was distracted by one, an adorable nymph, with markings resembling Mickey Mouse's face. These Crtrs seemed to be Boxelder Bugs (Boisea Rubrolineata).
Bite Size Factoid: The nymph pictured here doesn't have its wings fully developed in which it will take over most of its body. For now it will sport its resemblance to Mickey Mouse. These aren't beetles, rather they are Hemipteran (True Bugs) in which the wings form a diamond shape pattern. Whereas, a beetle's wings go straight down, parallel to each other when closed.
Another interesting difference is bugs pierce their food then suck up the sap of plant matter or insides of an animal, much like using a straw. Beetles are equipped with mandibles which mean they tear off & chew their food.
This bug has a twin, B.Trivittata, but one of the differences is in the wings. The veins are more prominent in the Rubrolineata species. It's still too young to ID this nymph correctly, but due to its location, my guess is it's a Rubrolineata. Please, correct me if I'm wrong.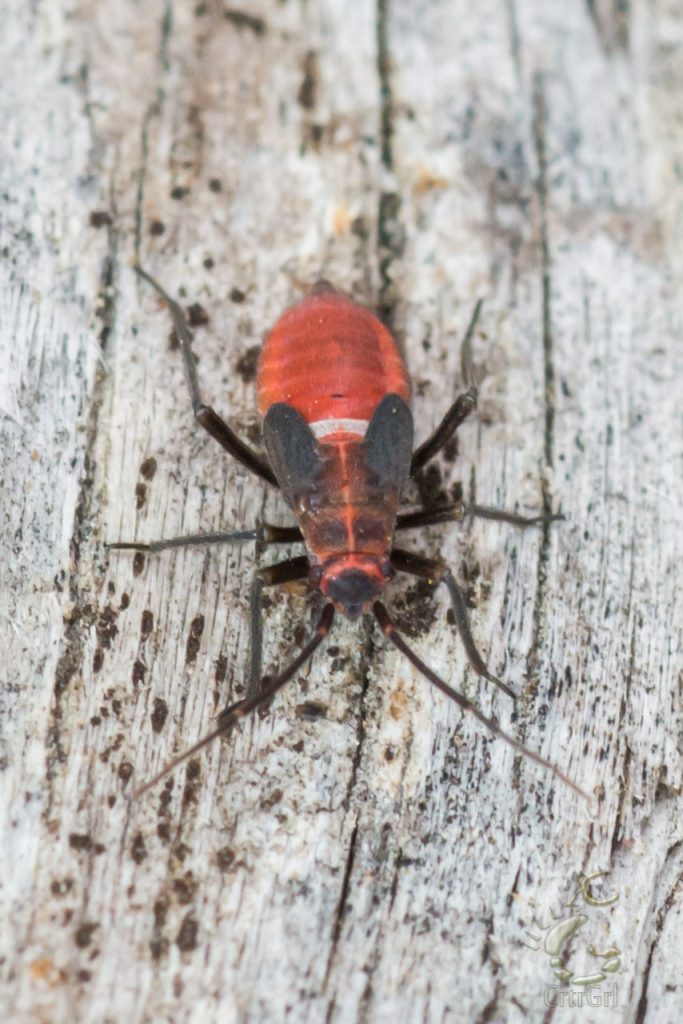 Boxelder bug, nymph (Boisea Rubrolineata) at 2nd Beach, WA. Photo by Scott McGee at Forest2SeaAdventurePhoto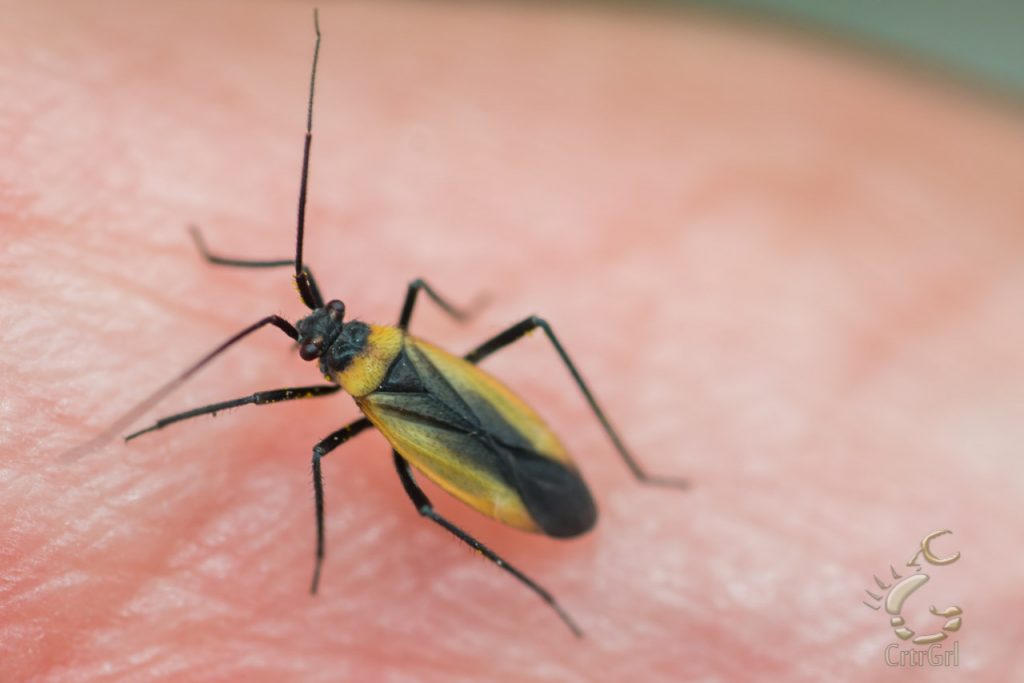 The 2nd hemipteran we found was nearby the others. All these different Crtrs were gathered together, but housed in their own driftwood. This Crtr was found in a group that were similarly built like the Boxelders, but their color were mainly yellow & black.
I had tried for several weeks to identify this species without luck, until an 18 yr. old insect enthusiast, James Alexander Morris, guided me to the correct genus. This lead me to the species, I believe, may be a Plant Bug, (Lopidea ampla). How's that for CrtrRew team work!? Much gratitude to this young man.
Bite Size Factoid: Being a true bug, this Crtr shares much of the factoids as the Boxelder Bug above. One of the differences is that Plant Bugs belong to the Miridae family. The name says it all, they grub on plant sap, although some species are predatory. One really interesting fact is they have some form of ant-mimicking features, but the connection to ants is yet to be fully understood.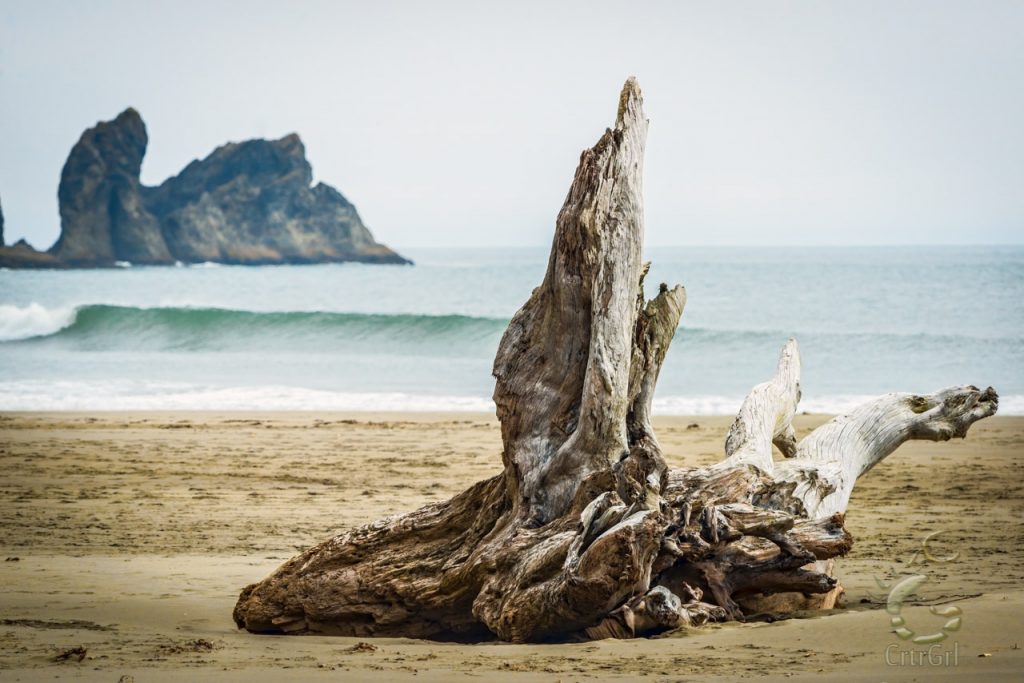 Time To Break Out The Tripod
It's Scott's turn to play! He grabbed his trusty tripod & practically skipped to shore to shoot away at the magnificent rock stacks & the water dancing around them. Once he was done with one section of the beach we would head on to see what else this gorgeous beach had to offer.
He photographed driftwood piled in such a way that formed like a trail. The kid in us had to climb up to balance ourselves on this new path to even more beauty. We crossed tiny water streams, played in man-made huts built by previous campers, & of course took more pictures of the ocean's stone islands.
While Scott was taking pictures, I wandered off looking for more Crtrs, but couldn't find any. Instead, a man "working out" caught my eye. Waiting there, he entertained me by carrying these heavy, fallen driftwood logs all by himself. I was fascinated!
Once Scott finished, I suggested we have lunch watching this guy do his thing. Scott took one pic of him, but I thought it was best we finish our lunch & maybe I could ask him if he wouldn't mind we photograph his awesome exercise regimen.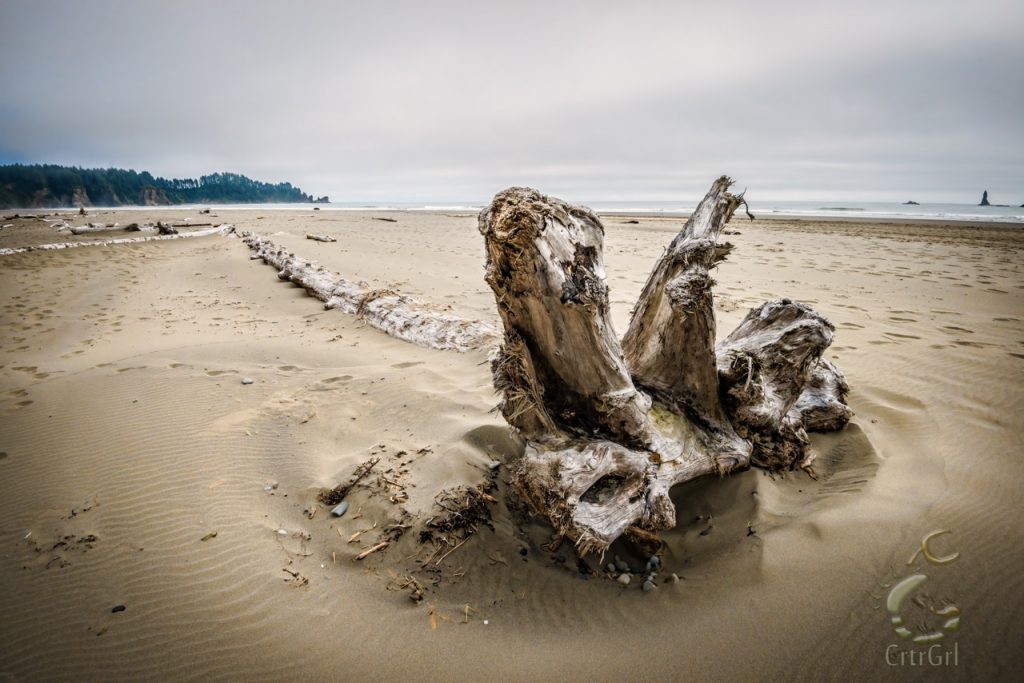 When The Unexpected Happens
As I approach the man, resting after his last haul, my huge smile started to disappear into more of a concerned expression. I slowed down my walk toward him as I noticed his bloody, cracked hands & worn out, exhausted face. He also had a cut on his nose.
I came face to face with him, smiled & introduced myself. So unfortunate that I forgot his name, but he shook my hand offering me a puzzled look. Apologizing for interrupting him, I explained to him my curiosity to why he was lifting these big logs by himself?
I just knew my assumption of this being some type of "Rocky Balboa" exercise was wrong. He replied that he was building his shelter located behind me. I did remember us passing a spot behind a big boulder with a mattress leaning up against it, driftwood logs lined up next to the mattress & other items scattered around, but I didn't think much of it other than it was litter.
The strong, but exhausted man was homeless & simply surviving. So, instead of asking to take his pic, as originally planned, I asked if he would like a hand with the next log. He scratched his head & told me they're very heavy. I took a quick glance over & knew he was right, but I replied, "Which is why 2 people is better than 1".
He hesitantly agreed & asked me if I wanted the back or front. I picked up the driftwood from the front with him taking the back & at the same time we placed it on our shoulders. Scott was confused, but he picked up his camera & shot away.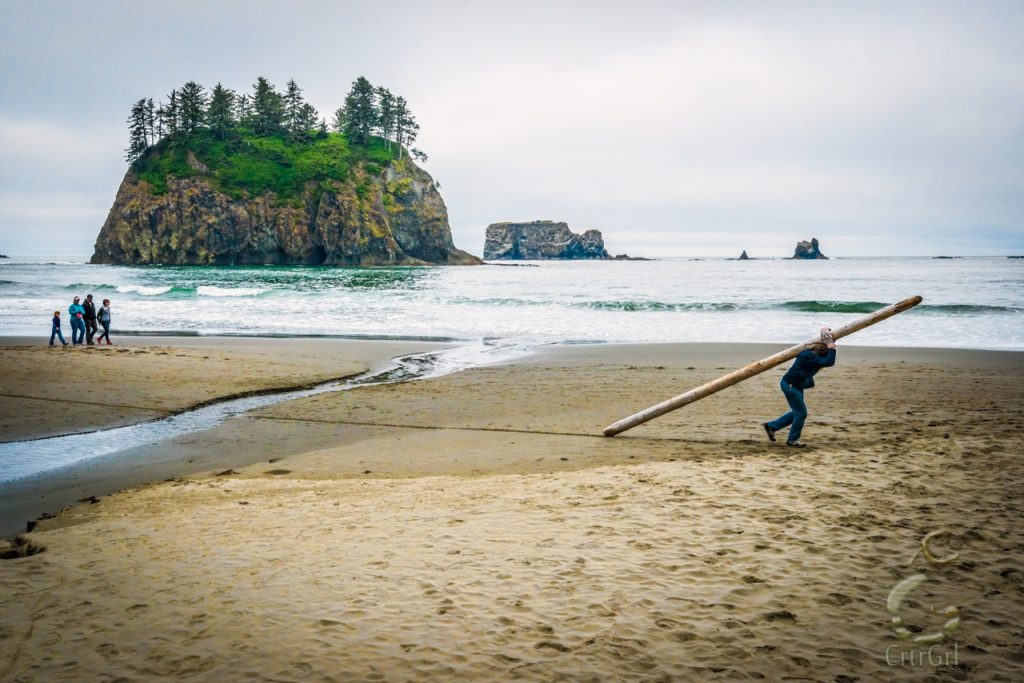 The walk to his shelter was further than I had thought especially since I was already in pain due to the ridiculous weight of the log. As we walked toward his shelter, I started to think how he did this several times all by himself. The pain he must've been in was beyond words, I'm sure. I saw it in his face.
We, finally, made it to his shelter where we spoke some more. I don't remember what I had said to him, but I did make him laugh a couple of times. I knew Scott was probably concerned so I asked the man if he needed help with any other logs. He told me, with relief, that was his last one for the day. He was going to get things prepped for the night.
I shook his hand strongly & told him it was a pleasure meeting him. After thanking each other I left feeling so grateful for the humbling experience. His sweet, tired smile still remains in my thoughts. My only regret is I wish Scott & I thought of offering to hang out & have grub with him since we did have some left, instead we took that humbling moment with us as we continued to search this blissful beach's wonderful surprises.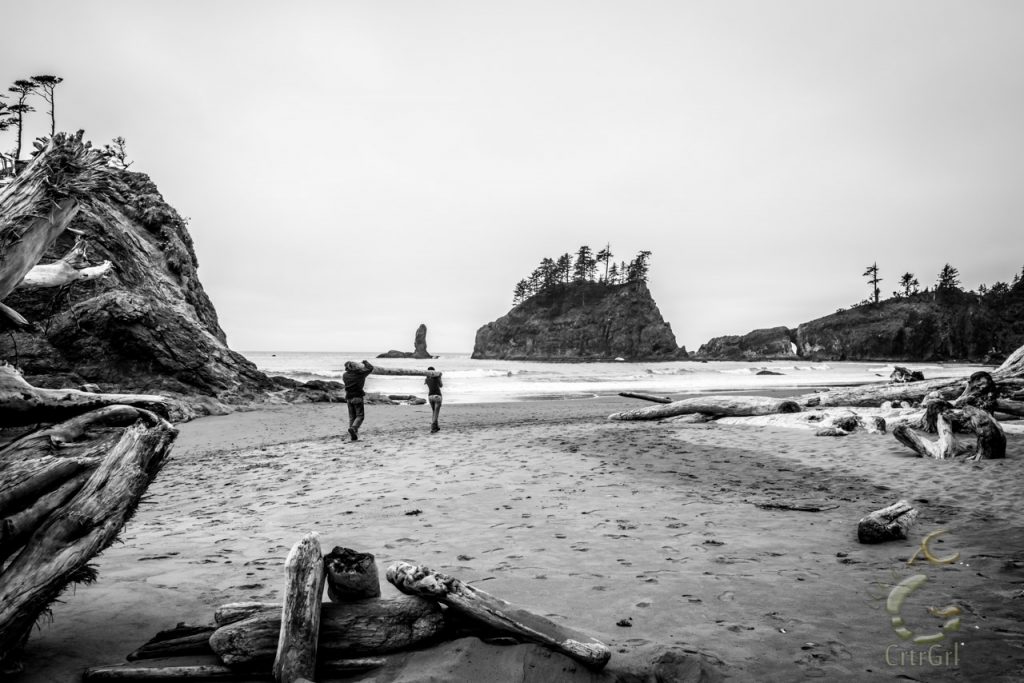 More photos from our 2nd Beach adventure here: