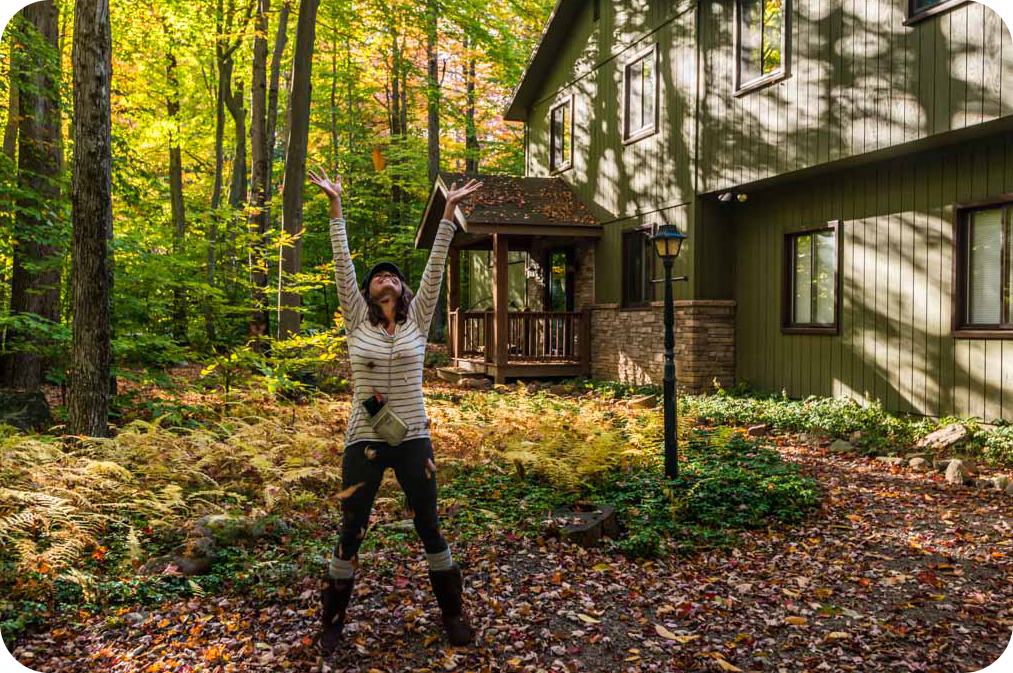 Home Sweet Home – CrtrGrl's Story
My father was drawn to nature all his life, maybe because he grew up in the city life, only visiting the Peruvian forests once in awhile. At home, in New Jersey, where my brother & I were born, my family & I would often watch commercials on TV about skiing & honeymooning in the Pocono Mountains. My father was determined to move us there even if it took working multiple jobs & that's exactly what he did. Our home life & even school was hard on me so I learned to escape to, what later became, my church…nature. Every home in every community in the Poconos is surrounded by the beauty of the Appalachian Forest. I was drawn in immediately & my life began to change.
The Forest & I Meet – CrtrGrl's Story
In the forest, which I grew to trust at any time of day, any kind of weather, I would sit in certain spots for hours after finishing my school work & chores. There I started to bond with nature without giving it any thought. Nature taught me to be calm, gentle, & respectful. My parents did teach us not to hurt others, right & wrong, etc., but in a forested county where hunting is a part of life, hunters & many others take its beauty for granted. I learned to bond with the forest & its Crtrs in a different way, a way that was taught to me only by nature. Now as an adult, I look back at how I interacted with the plants, trees & animals as a child. I remember how serene I felt & that I didn't think at all, I just flowed with whatever the energy was that day. I never felt lonely even when it was just calm & not a single animal visited me that day. I really didn't feel the desire that most kids felt, to hang out with friends, etc…well, not as often, I am still human. Most of the time I felt excitement to sit in my spot of choice, up high on a tree branch, by the ditch side, or just walk around as long as not a single human being was around. Animals of all kind would approach me. I was able to pet deer, play with raccoons, tadpoles would swim in my cupped hand, spiders & insects would crawl on me & I wouldn't even flinch. Animals were my family, each & every Crtr. I trusted them & they trusted me. There was even a time where my dad stopped his car to grab the camera from the trunk to capture this big black bear just grubbing on berries on the side of the road. He told my brother & I to wait in the car. I didn't. I slowly slid out of the back seat to the asphalt like I was melting. The bear & I kept our eyes on each other as I spoke gently to her. We slowly started to approach each other, neither of us feeling threatened, in fact, the whole thing was all too familiar to me. Just as I was raising my fingers to touch it's big, slimy nose my father broke that trusting, calm energy with a scream. Today, when we talk about that moment he holds on to that regret because he does remember that this wasn't an animal about to attack me, but at that time, who could blame him really. All he saw was his little girl about to supposedly be engulfed in bear digestive juices.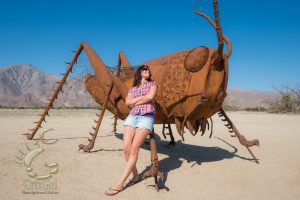 A Promise To Nature. CrtrGrl Is Born – CrtrGrl's Story
Today, in my 40s, I still keep my promise I made to nature when I was just around 10 years old…to take care of her as best as I could. My dreams of becoming a lawyer quickly changed to nature & animal caretaker. Often people asked me what I wanted to be when I got older thinking I would surely be a vet, herpetologist, marine biologist, zoologist, etc. Believe me I tried, but school was not my cup of tea & even though I enjoyed working in the animal field doing various different jobs I never felt it was exactly what I wanted to do until now. Just like the karate kid had to learn wax on/wax off & how to hold a paintbrush a certain way while painting, would lead him to becoming a great martial artist, I too had to learn all that I did in the animal field to become what nature has created….CrtrGrl (Critter Girl). I'm here to share my gift of how I bond with nature & why I am still so devoted to her & all that she is. Nature is my teacher. I am who I am because of her. I will take you on my ventures & explorations of the natural world on land & underwater with my husband, photographer & videographer Scott McGee (Under Pressure Photography). We share the same passion & devotion to our planet Earth. All you have to do is sit back & enjoy the ride. The bonus is if our love of nature becomes contagious & influences our Crtr peeps (aka CrtrRoons) to follow on our footsteps. We see it as a win/win for both you & nature. You get the experience while nature receives your respect & compassion.
Nature created CrtrGrl & now CrtrGrl will share its ferocious beauty.